Posted on Thursday, 24 July |
Algo anda mal en el universo. Según una nueva investigación llevada a cabo por un equipo de científicos internacionales y financiada por la NASA, las estadounidenses Fundación Nacional de Ciencias y la Fundación Ahmanson, no es posible encontrar la fuente de cerca del 80% de la luz del universo.

"Es como si estuvieras en una habitación grande y luminosa, pero mirases a tu alrededor y solo vieras unas pocas bombillas de 40 vatios", explica la astrónoma Juna Kollmeier, de la Institución Carnegie, citada por Space Daily…
80 percent of all light in the Universe is missing
According to observations made by the Cosmic Origins Spectrograph on board the Hubble Space Telescope, the Universe is missing 80 percent of all its light. Astronomers are completely baffled: "We still don't know for sure what it is, but at least one thing we thought we knew about the present day universe isn't true."
Those are the strong words of the co-author of the paper published in The Astrophysical Journal Letters by Ohio State University's David Weinberg. The Cosmic Origins Spectrograph detected that the tendrils of hydrogen that bridge the galaxies are not lighting up as expected. They are lighting up too much and we can see neither the light nor the sources from which the light is coming from…
Posted on Wednesday, 23 July |
Hay días en que simplemente no hay noticias interesantes que leer (sin duda un detonante del amarillismo y del morbo periodístico). Hoy por ejemplo encontré que el manatí mas viejo del mundo cumplió 66 años (con festejo y todo); Ah, y también esto…
Una mujer se sacó el ojo por rascarse con demasiada fuerza…
Monterrey, Nuevo León.- Una mujer que viajaba en un camión urbano, provocó gran susto a los demás usuarios, al ver que traía el ojo de fuera.

Según la lesionada, sintió que le entró una basurita en el ojo izquierdo y comenzó a rascarse, pero al parecer lo hizo con mucha fuerza y lo sacó de su cavidad.

Al ver al globo ocular de fuera, la mujer pidió auxilio a los demás peajeros y al verla, le pidieron al chofer que se detuviera, mientras pedían una ambulancia.

En minutos arribaron paramédicos de la Cruz Verde al cruce de la calles de Libertad y Percuten en la colonia Nuevo Repueblo.

Los rescatistas atendieron a la mujer y lograron regresar su ojo a la cavidad ocular.

FIN

http://bit.ly/aznojo
Posted on Tuesday, 22 July |
Es fácil obtener resultados interesantes cuando se combinan disciplinas artísticas de manera inusual. Como en este caso, donde la artista Emma Fay utiliza bailarines contorsionsitas, para darle vida/animación a sus creaciones de body paint. Chéquenlos en este video…


A contortionist is transformed into a human tarantula. The super-sized spider is the handiwork of body painter Emma Fay, 27, who used water-based paints to turn the ultra-flexible model into the giant arachnid. Fay's other stunningly realistic animal transformations include a stunning seahorse and a giraffe. The Leicester-based artist, who has been body painting for three years, spends around five hours on each work and created the series to celebrate the marvels of the natural world. 

Videographer / Director: Jonathan Macauley
Producer: Tom Midlane
Editor: Joshua Douglas…
Posted on Sunday, 20 July |
Aquí hay una propuesta escultórica extrema (bueno, es más un happening, para los muy puristas del arte)…
Una banda de death-metal llamada "Unfathomable Ruination" tocó dentro de esta caja sellada hasta quedarse totalmente sin aire.  El objeto cúbico, y la documentación del performance (que son los sonidos de un grupo de músicos tocando bajo el efecto de la asfixia) formó parte de un proyecto del artista portugués Joao Onofre, creado para el festival "Sculpture in the city", realizado en Londres…


A death metal band is living up to the type of music it creates by risking suffocation and playing in 
an airtight, soundproof steel box. 
The band, called Unfathomable Ruination, has been performing on the streets of London as part of a project called Box Sized DIE and they play until the oxygen runs out.
The idea was the creation of Portuguese artist Joao Onofre which formed part of an exhibition called Sculpture in the City.
ccording to the artist behind the piece, the box is a symbol of the 'boxy' offices in the area where people work. 
Onofre said: 'In this corporate architecture you do not see what is going on inside. The same thing is happening here.'
So how long can a death metal band play in an airtight, soundproof box - the band lasted 14 minutes the first time they played and have so far reached the 19 minute mark…

http://dailym.ai/1k6rmfB
Posted on Saturday, 19 July |
Varias empresas se han comenzado a poner de acuerdo para que sus aparatos más "inteligentes" se comuniquen entre sí. Por fin, un poco de estandarización, en cuestión de gadgets y otros aparatos con conexión (que algún día serán la mayoría). Supongo que las empresas ya se empiezan a dar cuenta que el negocio hace mucho tiempo dejó de estar en vender "cosas" (desde Bill Gates, a mi modo de verlo)…
Internacional.- Algunos de los mayores fabricantes del mundo, como Samsung, Dell, Intel, Broadcom, entre otros, unieron fuerzas para crear un estándar para el "Internet de las cosas", un gran paso que definirá el funcionamiento de los aparatos entre sí. Te decimos por qué es importante para el futuro.
"El Internet de las Cosas" es el nombre con que se le conoce a la tendencia actual de producir aparatos cotidianos comorefrigeradores, planchas, cafeteras, detectores de humo… y  prácticamente cualquier dispositivo electrónico en el hogar e incluso en el cuerpo humano, como relojes, calzado o ropa, etc., con conexión a internet para enviar y recibir datos.
Sin un estándar, la comunicación entre aparatos no será posible, por ejemplo: un televisor Sony no podría comunicarse con una lámpara Samsung. Es por eso que los principales fabricantes de electrónicos crearon la Open Interconnect Consortium (OIC).
La organización se encargará de definir los requerimientos de conectividadpara asegurar la interoperabilidad de más de 25 mil millones de dispositivos de los que estarán en línea para 2020.
De acuerdo a un comunicado de la OIC, las empresas participantes colaborarán con software y recursos para el desarrollo de protocolos específicos de código libre y programas de certificación. En resumen, esta nueva organización se dedicará a que los aparatos se comuniquen en el mismo lenguaje…

http://bit.ly/1pZJX5d
Posted on Thursday, 17 July |
La Secretaría de Salud (en México) acaba de prohibir los anuncios de dulces, golosinas y demás comida chatarra en los horarios en que los niños ven la T.V. (especificados abajo), con el argumento de que, con esto se combatirá la obesidad infantil. Esto va a mover muchas cosas a nivel marcas, productos, y marketing/publicidad en general (supongo que algo similar a lo que ocurrió con los cigarros hace unos 10 años).
Siempre he creído más en educar que en prohibir pero bueno, veamos si con esto obtenemos niños más saludables…

(CNNMéxico) — Los anuncios de refrescos, botanas, confitería y chocolates tendrán nuevas restricciones de transmisión en los horarios infantiles de la televisión mexicana, y también en el cine, informó este martes la Secretaría de Salud (SSA) federal.
La dependencia presentó las medidas regulatorias de la Estrategia Nacional para la Prevención y Control del Sobrepeso, la Obesidad y la Diabetes, relacionadas con la publicidad y el etiquetado de alimentos y bebidas no alcohólicas.
Con los nuevos lineamientos no se podrán exhibir anuncios de los alimentos referidos en televisión abierta y de cable de 14:30 a 19:30 horas del centro de México, de lunes a viernes. 
Los sábados y los domingos el horario de restricción será de las 07:00 a las 19:30.
La restricción en el cine aplica para las películas con clasificación A y AA.
Se estima que con esta medida se eliminarán de la barra infantil 55 de las 139 horas anuales de programación televisiva con ese tipo de contenido, lo que equivale a 40% de la pauta publicitaria correspondiente a las cuatro categorías de productos señalados.
En términos de spots, saldrán del aire 10,233 anuncios.
De acuerdo con esta medida, basada en el horario escolar de la Secretaría de Educación Pública (SEP) y los niveles de audiencia, solamente podrán publicitarse en programas infantiles "aquellos productos que cumplan con criterios nutrimentales".
Estos lineamientos fueron publicados el pasado 15 de abril en el Diario Oficial de la Federación.
Como medida adicional, desde 2015 las empresas tendrán que reportar claramente la fuente de la cual provienen las calorías en un producto; es decir, deberán señalar de manera obligatoria, clara y frontal, cuántas azúcares, grasas y grasas saturadas contienen los alimentos y bebidas.
"Nuestro país se convierte con esta regulación en pionero al incorporar las mejores prácticas internacionales en el diseño de mecanismos regulatorios transparentes para el consumidor", destacó el titular de la Comisión Federal para la Protección contra Riesgos Sanitarios (COFEPRIS), Mikel Arriola, durante la presentación de estas nuevas reglas contra la publicidad de los productos chatarra.
"Ante el reto que representan el sobrepeso, la obesidad y la diabetes, México responde con una estrategia integral y hay en nuestro país un antes y un después en materia de etiquetado y publicidad", puntualizó el funcionario federal…

http://bit.ly/1mVy5x9
Posted on Wednesday, 16 July |
Una divertida noticia sobre cómo la gente del campo en Turquía usa paneles solares para tener acceso a internet (tecnología que el gobierno está luchando por prohibir). Podemos decir que a toda prohibición ocurre siempre una reacción de igual magnitud pero en sentido contrario…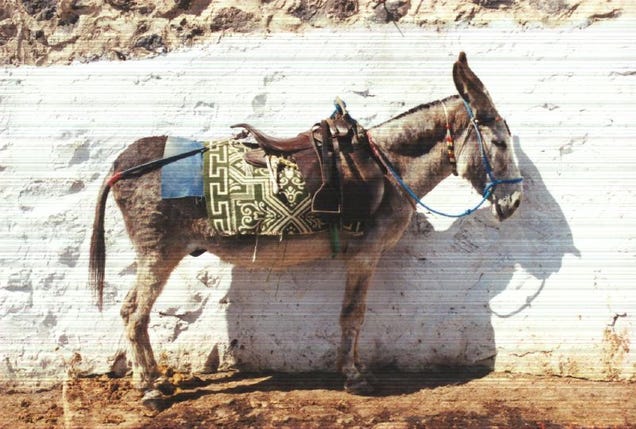 The Turkish government has made recent attempts to censor the Internet, but meanwhile some citizens are developing highly innovative ways of getting online. Consider the sheep and goat herders who are so desperate to keep up with technology that they have even started installing solar panels on the donkeys that accompany them on their long, semi-nomadic journeys out into the wilderness.
The devices, marketed by the Turkish solar panel company Ser-Gün as a "plug-and-play donkey," produce between five and seven kilowatts of electricity, enough to charge many laptops. They also power lights that are particularly helpful during birthing, RFD-TV reported.::

http://bit.ly/1lRZhsa
Posted on Tuesday, 15 July |
"To find out your dolphin name, lick your finger tips and rub a balloon."
Posted on Sunday, 13 July |
Para una agencia especializada solo en audio, las imágenes sobran. Bajo esta premisa, vean como solucionó su sitio de internet este estudio de audio en Croacia llamado croaciaaudio.com

If you're an audio production company, you want to show off your audio. And what better way to do that than with a website that's completely audio—with no visuals at all?
Brazilian agency Loducca built just such a site,croaciaaudio.com,for Croacia Audio. It's a Chrome Experiment, so it only works in that browser. You get around the site by responding to prompts from a voice, and letting the site access your computer's microphone.
Conceptually, it's great. In practice, the navigation can get annoying—it feels like one of those automated phone menus. And no, saying "Representative" doesn't get you anywhere…