Posted on Wednesday, 16 April |
Con la novedad de que el término científico "wormhole" (agujero de gusano en español), también conocido como "puente Einstein-Rosen" no nació de ningún ámbito científico, sino del siguiente texto en un poema del mismísimo W. Shakespeare ("The Rape of Lucrece", 1594)
"To fill with worm-holes stately monuments, 
To feed oblivion with decay of things, 
To blot old books and alter their contents, 
To pluck the quills from ancient ravens' wings."
As science comes up with new concepts it also creates new terms to describe them. But sometimes, the term they're looking for already exists. Here's how Shakespeare came up with a term for a theoretical physics concept almost 350 years before it had been invented.

Wormhole may sound like a rather modern coining, but it actually dates back to 1594 when Shakespeare used it in a verse of his poem The Rape of Lucrece (h/t to commenter Guild_Navigator, who reminded us of the verse in the comments of this post, on a mathematician who created his own language)...

http://bit.ly/1hUPQKJ



Posted on Tuesday, 15 April |
Me temo que el día en que comamos cucarachas está mas cerca de lo que muchos quiseramos. Lo único tranquilizador al respecto es que ya no es un tema más que de mentalización (pues según esta nota, es ya muy probado que su consumo es sano, viable, y prácticamente ilimitado)…


They're nutritious, easy on the environment, and plentiful. So, why aren't we eating more — or any — bugs?
Earlier today, we looked at the limited range of meats Americans were eating (pretty much just chicken, beef, and pork), and all those uneaten rabbits and goats that we were missing out on. But there was also something else missing from our grocery store shelves — and that something was insects

A recent report from the FAO pointed out that insects are already part of the diet of 2 billion people on this planet and suggested that, if farmed on a large scale, they could be a way to meet the rising demand for meat, while not consuming the same resources for feeding, waste disposal, and housing that livestock such as cattle, pigs, and chickens do. The problem, though, is how to introduce bugs into the diet for people who are not used to consuming them. Alternatively, the report also suggests that, as a middle step, bugs could be used as a source of livestock feed…

http://bit.ly/1e5G9cM
Posted on Saturday, 12 April |
Aquí unos interesantes estudios que confirman algo que muchos ya nos imaginábamos: la música nos hace producir dopamina (algunas canciones -nuestras favoritas- en grandes cantidades).
Que padre. Y qué miedo.
Que padre, porque eso lleva todo al mundo de lo químico, convirtiendo a la música en lo que realmente siempre ha sido: una droga corporal, auto-producida, y "socialmente aceptada". Sabiendo esto, el soundtrack perfecto para cualquier actividad será el más químicamente efectivo.
Que miedo, porque -sabiendo esto- no sería difícil pensar que en un futuro cercano haya scanners de cerebros (MRI) por todos lados - que analicen que nos mueve (consciente o inconscientemente) y adaptando todo tipo de mensajes a ello, afectando nuestro mundo químico con los mas diversos intereses...

When you listen to a song for the first time, the strength of certain neural connections can predict how much you like the music, according to a new brain scanning study.

A few years ago, Salimpoor and Zatorre performed another type of brain scanning experiment in which participants listened to music that gave them goosebumps or chills. The researchers then injected them with a radioactive tracer that binds to the receptors of dopamine, a chemical that's involved in motivation and reward. With this technique, called positron emission tomography or PET, the researchers showed that 15 minutes after participants listened to their favorite song, their brains flooded with dopamine.
The dopamine system is old, evolutionarily speaking, and is active in many animals during sex and eating. "But animals don't get intense pleasures to music," Salimpoor says. "So we knew there had to be a lot more to it."
In the new experiment, the researchers used functional magnetic resonance imaging (fMRI) to track real-time brain activity as participants listened to the first 30 seconds of 60 unfamiliar songs. To quantify how much they liked the music, participants were given the chance to buy the full version of each song — with their own money! — using a computer program resembling iTunes. The program was set up like an auction, so participants would choose how much they were willing to spend on the song, with bids ranging from $0 to $2…

http://bit.ly/1kCYS1w
Posted on Thursday, 10 April |
"In fiction one single fact that is true gives legitimacy to the entire work."
Posted on Wednesday, 9 April |
Están circulando por ahí un par de imágenes y videos que buscan hacer algo visualmente claro: nuestro planeta, nuestro sol y nuestro sistema solar completo están viajando  por el espacio a velocidades increíbles (como 70,000 km/h), lo que hace las orbitas de cada planeta mucho mas dinámica e interesante.
Aunque muchos ya lo sabíamos, no deja de ser increíble el poder ver estos diagramas animados que ilustran el fenómeno. Ahora sí podemos decir que la vida es un viaje…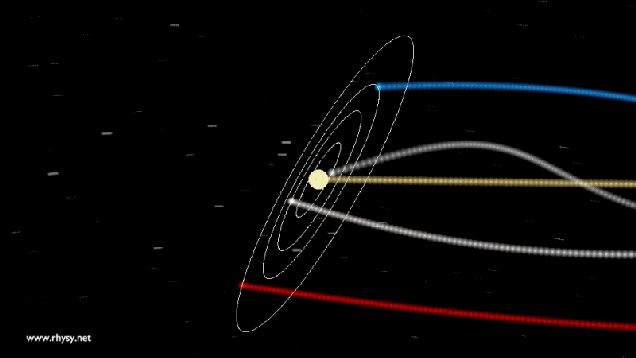 Our planet is rotating around its axis at a rate of 1,000 miles per hour, and our moon is swinging around us. We race around the sun at 67,000 miles per hour, along with all the other planets, dwarf planets, asteroids, comets, and centaurs trailing along at their own pace as they make the journey around the sun.

Our sun, light of our lives and the gravitational glue binding our solar system together, is itself no lazy creature, spinning at 4,400 miles per hour. The star and its twisting disc of planets make the long marathon along the outskirts of the galaxy at 43,000 miles per hour, bobbing through the galactic plane. Even our Milky Way is in a steady dash, moving at 1.3 million miles per hour with respect to the Cosmic Microwave Background Radiation.

I offer an alternative that reflects more accurate views of orbital mechanics as we know it, isn't soaked in a downright bizarre pseudoscience framework, and is still mesmerizingly pretty…

http://bit.ly/1hUMxDh
Posted on Monday, 7 April |
Uno de los fotógrafos norteamericanos más famosos de todos los tiempos, John Ernest Joseph Bellocq, mantuvo durante más de tres décadas una de sus obras más ocultas.
Fotografiado en 1912, el proyecto reúne las imágenes en la rutina de las prostitutas de la época se consideraba vulgar y sucia. Por esta razón, no se publicó hasta 1949, tras la muerte de Bellocq.


El fotógrafo incursionó por Storyville, Nueva Orleans, EE.UU., para fotografiar a las prostitutas locales. La obra fue descubierta por el fotógrafo Lee Friedlander. Aquí, las mejores…
Posted on Saturday, 5 April |
Hace mucho, mucho tiempo, se hizo una predicción: en la Grecia Antigua, Sócrates lamentó la popularización de la escritura. Él defendía que este modo de registro de conocimiento y advirtió que la sustitución del conocimiento acumulado en el cerebro, por parte de la palabra escrita volvería a la mente prejuiciosa y perjudicaría a la memoria.

Tuvimos que llegar hasta nuestros días para ver: 1.- a qué se refería 2.- que tenía razón y 3. que se puede comprobar a través de un estudio, como el que hizo la psicóloga Linda Henkel (de la Universidad de Fairfield)…




Socrates once feared that technology would corrupt human memory. Quaint as it sounds today, he was worried about a form of communication called writing. The more easily people could access something in a document, he reasoned, the less inclined they'd be to remember it.
The great philosopher's point rings as true in the digital age as it did in ancient Greece. Recent tests have found that people who think a computer will save their information recall much less of it than those led to believe the machine will delete it. A difficult trivia question is as likely to bring Google to mind as it is the answer.
Fairfield University psychologist Linda Henkel believes something similar may be happening with digital photography. The more easily people can take and access pictures, she says, the less inclined they may be to remember the moment itself. "You're just kind of mentally discounting it—thinking, 'Well, the camera's got it,'" Henkel tells Co.Design.
 Henkel draws that conclusion from a study she recently conducted at the Bellarmine Museum of Art on Fairfield's campus. In one of her experiments, she gave test participants a digital camera and an itinerary of museum objects to view. Some of the objects were simply observed. Some were photographed whole with the digital camera. Some were photographed with explicit instructions to zoom in on a detail.
The following day, Henkel gathered the participants and tested their memories about the museum experience. She showed them the names (or pictures) of all the objects they'd seen, as well as 10 they hadn't, and asked them whether or not they'd gone up to the item, and if so whether they'd simply observed it or photographed it. For each item they said they saw, she also questioned them about a detail.
Socrates would have enjoyed the results…

http://bit.ly/NQK6Wo
Posted on Thursday, 3 April |
Google acaba de inventar -y patentar- unos lentes de contacto con los que, por medio de variso sensores (de orientación, de temperatura, de luz), comandos de voz y algunos otros movimientos propios de esta nueva "interfase" (pestañeo, movimiento de iris) se pueden ya ejecutar varias funciones, relacionadas principalmente con la interacción entre varios dispositivos (crear/modificar documentos, activar opciones, operar computadoras, smartphones y otros aparatos electricos de audio/video).

Hace poco, un experto en genética de Washington dijo que en el futuro, nuestros ojos van a aumentar su tamaño debido a este tipo de dispositivos. Supongo que esa línea de evolución comienza hoy…




Con información revelada el día de ayer por el portal especializado patentbolt.com, los lentes de contacto de Google fueron registrados ante la USPTDO, lo que indica una apuesta total de esta empresa por la investigación y desarrollo de los famosos 'accesorios tecnológicos' (wearable devices). Aparentemente, estos nuevos lentes de contacto inteligentes, permitirán al usuario acceder a otros dispositivos mediante un parpadeo…

Google Invents Multi-Sensor Contact Lenses
Google's invention generally relates to systems and methods for employing multiple sensors on a contact lens for detecting blinks and contact lens orientation.
According to Google, a mechanism is provided for detecting blinking of an eye via multiple sensors on or within the contact lens (hereinafter referred to as multi-sensor contact lens). For example, a multi-sensor contact lens can be placed in one or both eyes of a user that can actively determine (or infer) blinking of the eye.
In a non-limiting example, multi-sensor contact lens monitors sensors on or within the multi-sensor contact lens at intervals that are less than an average or shortest length of time of an eye blink. It is to be appreciated that both eyes of a human user generally blink at the same time, and thus in various embodiments only one multi-sensor contact lens is needed to generate a command to a remote device.
The patent filing notes that components on or within a contact lens can be of a shape, size, opacity, and/or positioned so as not to obstruct vision through an opening of a pupil of an eye when worn. Google's patent FIG. 1A noted below depicts a system #100 for detecting (or inferring) eye blinking or contact lens orientation using a multi-sensor contact lens:

Control features of multi-sensor contact lens #110 can include issuing commands, adjusting content presentation, activating or deactivating options or components, or any other suitable functions…

http://bit.ly/NQwwCi