Posted on Tuesday, 11 March |
Debemos admitir que la mayoría de las veces, la publicidad lo que hace es "maquillar" las cosas (visual o conceptualmente), para ser percibidas mejor de lo que son. Pero existe un tipo de publicidad donde se logra mostrar de manera honesta, tangible, y además creativa, el beneficio real de adquirir un producto o servicio.
Este es el tipo de campañas que gana -o que debería ganar- premios…



Las tiendas Obi  (una especie de "Home Depot" alemán) crearon una manera de publicitar sus herramientas para renovar paredes sin la necesidad de colocar vallas publicitarias, pues utilizaron las propias paredes de edificios para comparar como luce la aplicación de su producto de una forma más real y directa.

Con ayuda de la agencia alemana Jung Von Matt consiguieron demostrar el poder de sus productos en el sitio donde es necesario usarlos…
Posted on Monday, 10 March |
Aquí hay un buen reto: demostrar que puedes ser feliz durante 100 días seguidos, compartiendo algunos posts diariamente durante ese periodo.

Habrá muchos a quienes ni siquiera les interese demostrar nada, lo que pone "su" felicidad libre de ese tipo de tonterías y por encima de todo esto. Pero en fin, siguiendo el juego, suena como algo muy simple de hacer, y a la hora de la hora, la tasa de abandono no ha hecho más que reforzar las tesis principales del proyecto:
1. De cada 100 personas que dicen ser felices, 71 en realidad no lo son.
2. Es difícil ser feliz…


71% of people tried to complete this challenge, but failed quoting lack of time as the main reason.These people simpy did not have time to be happy. Do you?
every day submit a picture of what made you happy!  
It can be anything from a meet-up with a friend to a very tasty cake in the nearby coffee place, from a feeling of being at home after a hard day to a favor you did to a stranger.

#100happyday challenge is for you - not for anyone else. 
It is not a happiness competition or a showing off contest. If you try to please / make others jealous via your pictures - you lose without even starting. Same goes for cheating.
Posted on Saturday, 8 March |
Hace tiempo vi una de las instalaciones mas poéticas que he tenido la suerte de conocer (el proyecto se llamaba "Espejo Plasmaht"), donde un artista llamado Ariel Guzik, hizo "cantar" a unos cactos conectándoles sensores electro-magnéticos en su interior, y traduciendo sus emisiones en sonido por medio de un extraño instrumento musical.

Guzik no es un artista que produzca mucho, sus proyectos suelen ser bastante ambiciosos y duran muchos años en terminarse. Ahora que vuelve a ser noticia con este nuevo "artefacto" (Cordiox, 2013), seguro vale la pena ir a verlo. Por cierto que esta pieza -que se exhibe ahora en Arte Alameda- representó a México en la Bienal de Venecia de este año, lo que o es poca cosa. Recomiendo mucho mucho…



Este aparato, que parece tener vida propia, llamado tambiénla máquina de los sueños, del cual emana la voz del universo, se encuentra por primera vez en el país y a partir de ayer se exhibe en el Laboratorio Arte Alameda, donde permanecerá poco más de un mes.
Cordiox invita a un tipo de contemplación lenta que es poco común en el arte contemporáneo, señaló Tania Aedo, directora del recinto, durante la presentación a la prensa de la pieza que bien pudo haber sido creada en la segunda mitad del siglo XIX, concebida para asomarse a ciertos fenómenos aún dotados de misterio, sin despojarlos de esa virtud, como explica su creador en un texto de presentación.
Durante su estancia en Venecia, la máquina de cuatro metros de altura fue instalada en la ex iglesia de San Lorenzo, que sirvió por primera y única vez como pabellón de México en ese importante encuentro de arte internacional.
El templo llevaba 10 años cerrado. Ese recinto, señaló la curadora Itala Schmelz, tenía condiciones estructurales que implicaban un reto, pues no contaba con piso, ya que se habían realizado excavaciones para recuperar vestigios arquitectónicos del siglo VI. Tampoco tenía paredes blancas.
Por eso se optó por buscar una pieza sonora, pues el sonido podría integrarnos al espacio, la pieza de Guzik fue ideal, añadió al resaltar que se consiguió que asistieran 43 mil personas al pabellón mexicano: "Fue el recinto más visitado de todos los que se encontraban en el recorrido excéntrico de la Bienal, se corrió la voz, Cordioxse ganó a pulso el gusto del público, eran personas que especialmente se perdían en la calles venecianas para buscar el aparato".
Cordiox, dice la curadora, es una máquina subjetiva que genera memoria, funciona mejor en las tardes y en las noches que en las mañanas, pues almacena información, incluso toma decisiones, toda la información que recibe la transforma en sonido.
El aparato está ahora instalado en la sala E del Laboratorio Arte Alameda.
Antes de ingresar para conocerlo, es decir, para escucharlo, se puede apreciar material documental para conocer un poco más el trabajo de Ariel Guzik, un músico, investigador, artista, iridólogo, herbolario e inventor que diseña y produce mecanismos e instrumentos para investigar fenómenos de resonancia, mecánica, electricidad y magnetismo.
Lo mismo ha construido un laúd que capta las vibraciones de los cactus, que un aparato para comunicarse con ballenas y delfines…
Posted on Friday, 7 March |
¿Se atreven a leer un libro escrito por un fantasma?
Resulta que la última novela de Dickens ("El misterio de Edwin Drood", 1870) es la única novela del mundo que terminó de ser escrita por un Charles Dickens… ya muerto. O eso es lo que se cree, como se explica en este compendio de Listverse sobre misterios sin resolver relacionados con fantasmas y cosas del  más allá…


When Charles Dickens died at age 58, he had been hard at work on a new novel, which was to be called The Mystery of Edwin Drood. The story was a murder mystery, with the titular Edwin vanishing and presumed dead. Unfortunately, Dickens succumbed before the book was finished. There were several attempts by other writers to finish the tale, including one version by Charles Dickens Jr.
The weirdest version was penned by a printer from Vermont in 1873. The man, named Thomas James, claimed that Charles Dickens himself had channeled himfrom beyond the grave to finish the story once and for all. James would sit and write in a strange handwriting (which belonged to neither him nor Dickens). Many people dismissed James as some kind of con artist. After the book was finished, it was well received in the United States, but rather less so in the United Kingdom. However, spiritualists such as Arthur Conan Doyle lent their support to James, believing he had indeed been in contact with the deceased author. Not surprisingly, Thomas James never wrote another book, despite lucrative offers.


Posted on Thursday, 6 March |
Aquí hay una idea fascinante. Según "Designing for the 6th Extinction", un proyecto de bio-ingeniería a cargo de Alexandra Daisy Ginsberg, la mejor -y mas adelante quizás la única- forma de evitar la desaparición propia y la de otras especies en la tierra -conocido esto tambien como la Extinción del Holoceno- será diseñando organismos artificiales, para que estos limpien componentes dañinos y devuelvan el "balance" a nuestros ecosistemas…
La primera vez que leí sobre una idea así -un mundo habitado por organismo artificiales- fué en un relato de sci-fi ("Galaxias como granos de arena" creo), en donde una humanidad ya extinta deja en la tierra "abejas robotizadas" y otros animales programados para poco a poco restablecer sus casi desaparecidas flora y fauna. Es decir, para que parezca que jamás estuvimos aquí.
Nuevamente la ficción se quiere volver realidad…


Synthetic animals will save the planet

Can we 'preserve' by looking forwards? The sixth great extinction event in the history of biology is underway, and we humans may be its cause.
While conservationists struggle to protect existing 'natural' species and reverse the effects of the Anthropocene (the human epoch), synthetic biologists are busy designing new organisms for the 'benefit of humanity'. What might the 'wilds' look like in a synthetic biological future?
Designing for the Sixth Extinction investigates synthetic biology's potential impact on biodiversity and conservation. Could we tolerate 'rewilding' — the conservation movement that lets nature take control — using synthetic biology to make nature 'better'? Letting synthetic biodiversity loose to save the 'nature' that we idealise would disrupt existing conventions of preservation.
Posted on Tuesday, 4 March |
Lo único que les faltó a los Nike MAG del 2011 (la primera versión a la venta que replica los zapatos usados por Marty McFly en Back to the Future II) era que, en la película estos se abrochaban automáticamente.
Con la edición de 2015 -que además es la fecha del futuro a la que el personaje viaja- este error va a corregirse…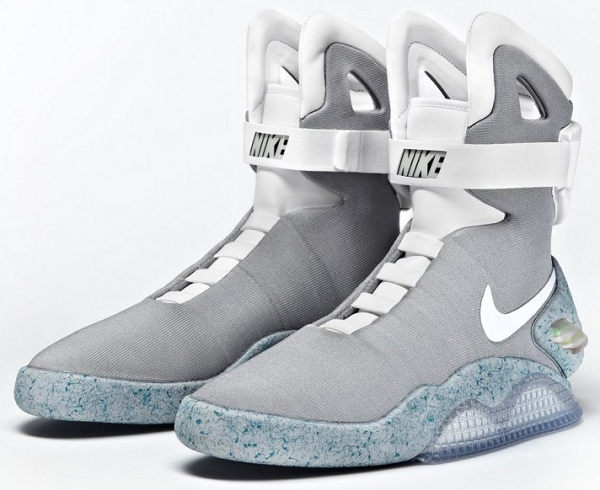 If there was one disappointment about Nike's awesome Back to the Future II Air Mag, it's that the shoes didn't have Marty's power laces (and that they only made 1,500 and neither you nor I own a pair). But Nike designer Tinker Hatfield says that's about to change—power laces are coming in 2015. The future is here! Yes, as Sole Collector tells it, designer Tinker Hatfield showed up at the Jordan Brand's Flight Lab space in New Orleans yesterday. When asked about power laces, his answer was pretty unequivocal: "Are we gonna see power laces in 2015? To that, I say YES!"

http://bit.ly/1fnQG2L
Posted on Sunday, 2 March |
Una forma interesante de hacer retratos.
En su serie "The Composites" el artista digital de Brian Joseph Davis utiliza software policiaco -el que se usa para la identificación de rostros de criminales-, pero para hacer retratos hablados de personajes de la literatura. Aquí hay un ejemplo de uno, mostrando cómo lucirían "Dr. Jekyll" y "Mr. Hyde" para un computadora, según la descripción de sus rasgos en el libro de Louis Stevenson…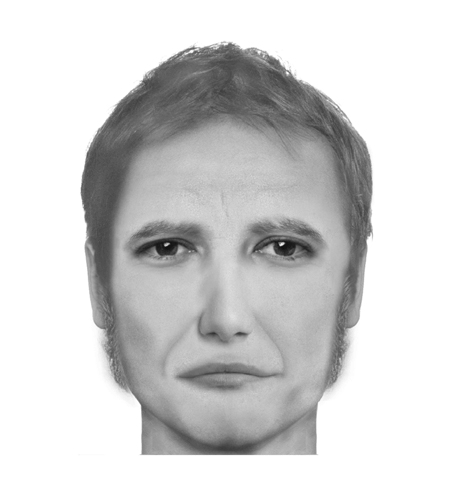 Assuming the differences between Dr. Henry Jekyll and Mr. Edward Hyde are a matter of personality, carriage, and grooming, just how different do they look from one another? Using police sketch software, an artist envisions the faces of Jekyll and Hyde.

Brian Joseph Davis has been translating descriptions of fictional characters into portraits using law enforcement composite software for a while now, but this Jekyll and Hyde portrait pairing is especially interesting as it shows two personas who share a face but not an appearance…

http://bit.ly/1bGF4ac
Posted on Saturday, 1 March |
Una buena campaña para San Valentín: una vending que es olo visible (y  da Coca-Colas) solo para quienes llegan en pareja…



To spread some love and happiness on the past Valentine's Day, Coca-Cola created an 'invisible' vending machine that only reveals itself to couples. 

When couples walk past the hidden machine, it lights up and asks for their names. 

After playing some beautiful visuals, the couple will be presented with a pair of custom Coca-Cola cans with their names printed on them. 

Sadly, the machine doesn't show itself to singles—who rightfully deserve some cheering up on Valentine's Day…

http://bit.ly/1jgCFTQ
Posted on Friday, 28 February |
Para jugar con sonidos un buen rato, aquí hay una versión online de este curioso instrumento…
El theremín, llamado eterófono en su versión primitiva, es uno de los primeros instrumentos musicales electrónicos. Inventado en 1919 por el físico y músico ruso Lev Serguéievich Termen…




The web audio theremin is a touch friendly & responsive audio synthesizer built in javascript using the Web Audio API with HTML5 canvas.
As the user interacts with the screen synthesized sounds are generated in the style of a moog theremin and the canvas displays a visual representation of the audio.

http://bit.ly/1mrmoQy
Posted on Friday, 28 February |
Una nueva película de Peter Greenaway sobre la visita de Sergei Eisenstein en México, y la influencia que tuvo esto en toda su obra fílmica, haciéndolo el pionero mas importante del lenguaje cinematográfico a principios del siglo pasado.
Es muy irónico que  los mejores directores mexicanos tienen que irse a filmar a Europa y E.U. para logra destacar un poco, mientras que algunos otros europeos (y no cualesquiera, sino leyendas como Greenaway y el mismo Eisenstein) se desviven por venir a filmar nuestro país y contar nuestras historias…

Directed by Greenaway ('The Cook, the Thief, his Wife and her Lover', 'The Draughtsman's Contract', 'The Pillow Book'), the Eisenstein cast includes Finnish actor Elmer Back in the title role, Mexican actor Luis Alberti in the role of his guide (Palomino Cañedo), South African actor Stelio Savante as Hunter S Kimbrough and Lisa Owen as Mary Craig Sinclair.
The film follows Eisenstein's ten days spent in Guanajuato, Mexico, in 1931. His sensual experiences in Guanajuato greatly influenced his life and his films.
Greenaway said: "At a time when cinema is dying, it is pertinent to celebrate cinema's greatest practitioner. The business of cinema never seems to change. Many of the problems Eisenstein had in 1931, have reappeared all over again. Difficulties of financing, problems of logistics, cultures and language barriers. Such as Eisenstein rose to these problems, so do we."
"Eisenstein in Guanajuato" is an international co-production between Submarine and Fu Works (The Netherlands), and Paloma Negra Films (Mexico), Edith Film (Finland) and Potemkino (Belgium). Broadcasting networks VPRO (the Netherlands), ZDF (Germany), Arte (France) and YLE (Finland) are supporting the film. The pic is produced by Bruno Felix and Femke Wolting for Submarine ("Meet the Fokkens," "Rembrandt's J'Accuse"), and San Fu Maltha for Fu Works ("Blackbook," "Winter in Wartime,"). The film will be shot entirely in Guanajuato, Mexico.
The film is expected to be released in cinemas in September 2014…

http://bit.ly/N6pBF0