Posted on Tuesday, 22 April |
¿Cómo terminará el universo conocido? Cada vez hay más científicos en el mundo que están -finalmente- de acuerdo sobre cómo creen que pudo iniciar el Universo (lo que todos conocemos como Big Bang).
Ahora el debate está en ponerse de acuerdo sobre cómo va a terminar.
En esta nota de Listverse hay 10 teorías, por algunos de los científicos más reconocidos en el tema, sobre cómo podría suceder esto.
Si es que sucede, porque aquí sí están lejos de poner se acuerdo (algunos dicen que nunca pasará).
Buena lectura para echar a volar la mente…

One of the most fascinating things about the universe is how little we really know. And just like we want to know what happens when we die, science has asked how the universe will end for as long as man has been able to think about such concepts. The truly fascinating thing is just how many theories the scientific community has produced—and how wildly different some of them are.

The most prominent theory for how the universe began is the Big Bang, where all matter first existed as a singularity, an infinitely dense point in the abyss of nothing. Then something caused it to explode. The matter expanded outward at an incredible rate and eventually formed the universe we see today…

http://bit.ly/1iqIBKE
Posted on Sunday, 20 April |
El cerebro humano es solo una de las muchas cosas a las que se les puede hacer resonancias magnéticas. Aquí por ejemplo, hay algunos experimentos con vegetales. Cortesía del blog "Inside Insides" de Andy Ellison…




Sorry it's been so long since a new fruit! The list of unique fruits and vegetables is getting thin. I'm always open to some suggestions! Drop me an email if you can think of anything I should scan (fruit, veg or flower particularly)

This beast is the Jackfruit. Although it doesn't show in the scan, this thing is massive. 22 lbs and about a foot and a half tall, I barely could fit it in any of my coils. Therefore you'll notice that the scan isn't the entire fruit, slices at either end of the stack were victims to horrific signal loss and ugly images, so I trimmed them off…

http://bit.ly/QpZBpP
Posted on Friday, 18 April |
Ahora que tenemos la noticia de que Google va desarrollar el proyecto de Motorola de los #Phoneblocks -conocido tambien como "Proyecto Ara"- para el año próximo (2015), el asunto se puede tomar mucho mas en serio que antes.
Esta idea de smartphones "modulares" me llamó la atención desde que la ví. Es un gran paso en pro de la customización para este tipo de gadgets -pues trae más opciones de configuración para los usuarios, lo que para algunos implica toda una nueva forma de "libertad tecnología".

¿Exagero? No creo, esto es el extremo opuesto a lo que, increíblemente, aún nos tienen acostumbrados varias marcas: tener un teléfono al que no le puedes cambiar ni la pila, ni refacciones de ningún tipo. En verdad, esto puede cambiar varios paradigmas en la forma de hacer y consumir estos aparatos "móviles" (que por cierto, su crecimiento en las telecomicaciones digitales ya es tan grande, que hasta el término está por desaparecer).
Vale la pena compartir esto y ponerle más atención, pues ya no es solo una buena idea, sino una realidad. Y vale la pena darse cuenta que en otras industrias, como la automotriz o , esta idea de poder customizar tu producto jamás ha podido suceder. Y debería poder…

"Everyday we throw away millions of electronic devices, because they get old and become worn out. But usually it's only one of the components that causes the problem. The rest of the device works fine but is needlessly thrown away. Simple because electronic devices are not designed to last. This makes electronic waste one of the fastest growing waste streams in the world. And our phone is one of the biggest causes.

So this is a new kind of phone. It's made of blocks. Detachable blocks. They're all connected to the base, and the base connects everything together. Electrical signals are transferred through the pins, and two small screws lock everything in place. So if for instance your phone is getting a little slow, you could just upgrade the block that affects the speed. Or if something breaks you can easily replace it with a new one, or update it with the newest version…

http://thndr.it/12lPDsQ"



Posted on Wednesday, 16 April |
Con la novedad de que el término científico "wormhole" (agujero de gusano en español), también conocido como "puente Einstein-Rosen" no nació de ningún ámbito científico, sino del siguiente texto en un poema del mismísimo W. Shakespeare ("The Rape of Lucrece", 1594)
"To fill with worm-holes stately monuments, 
To feed oblivion with decay of things, 
To blot old books and alter their contents, 
To pluck the quills from ancient ravens' wings."
As science comes up with new concepts it also creates new terms to describe them. But sometimes, the term they're looking for already exists. Here's how Shakespeare came up with a term for a theoretical physics concept almost 350 years before it had been invented.

Wormhole may sound like a rather modern coining, but it actually dates back to 1594 when Shakespeare used it in a verse of his poem The Rape of Lucrece (h/t to commenter Guild_Navigator, who reminded us of the verse in the comments of this post, on a mathematician who created his own language)...

http://bit.ly/1hUPQKJ



Posted on Tuesday, 15 April |
Me temo que el día en que comamos cucarachas está mas cerca de lo que muchos quiseramos. Lo único tranquilizador al respecto es que ya no es un tema más que de mentalización (pues según esta nota, es ya muy probado que su consumo es sano, viable, y prácticamente ilimitado)…


They're nutritious, easy on the environment, and plentiful. So, why aren't we eating more — or any — bugs?
Earlier today, we looked at the limited range of meats Americans were eating (pretty much just chicken, beef, and pork), and all those uneaten rabbits and goats that we were missing out on. But there was also something else missing from our grocery store shelves — and that something was insects

A recent report from the FAO pointed out that insects are already part of the diet of 2 billion people on this planet and suggested that, if farmed on a large scale, they could be a way to meet the rising demand for meat, while not consuming the same resources for feeding, waste disposal, and housing that livestock such as cattle, pigs, and chickens do. The problem, though, is how to introduce bugs into the diet for people who are not used to consuming them. Alternatively, the report also suggests that, as a middle step, bugs could be used as a source of livestock feed…

http://bit.ly/1e5G9cM
Posted on Saturday, 12 April |
Aquí unos interesantes estudios que confirman algo que muchos ya nos imaginábamos: la música nos hace producir dopamina (algunas canciones -nuestras favoritas- en grandes cantidades).
Que padre. Y qué miedo.
Que padre, porque eso lleva todo al mundo de lo químico, convirtiendo a la música en lo que realmente siempre ha sido: una droga corporal, auto-producida, y "socialmente aceptada". Sabiendo esto, el soundtrack perfecto para cualquier actividad será el más químicamente efectivo.
Que miedo, porque -sabiendo esto- no sería difícil pensar que en un futuro cercano haya scanners de cerebros (MRI) por todos lados - que analicen que nos mueve (consciente o inconscientemente) y adaptando todo tipo de mensajes a ello, afectando nuestro mundo químico con los mas diversos intereses...

When you listen to a song for the first time, the strength of certain neural connections can predict how much you like the music, according to a new brain scanning study.

A few years ago, Salimpoor and Zatorre performed another type of brain scanning experiment in which participants listened to music that gave them goosebumps or chills. The researchers then injected them with a radioactive tracer that binds to the receptors of dopamine, a chemical that's involved in motivation and reward. With this technique, called positron emission tomography or PET, the researchers showed that 15 minutes after participants listened to their favorite song, their brains flooded with dopamine.
The dopamine system is old, evolutionarily speaking, and is active in many animals during sex and eating. "But animals don't get intense pleasures to music," Salimpoor says. "So we knew there had to be a lot more to it."
In the new experiment, the researchers used functional magnetic resonance imaging (fMRI) to track real-time brain activity as participants listened to the first 30 seconds of 60 unfamiliar songs. To quantify how much they liked the music, participants were given the chance to buy the full version of each song — with their own money! — using a computer program resembling iTunes. The program was set up like an auction, so participants would choose how much they were willing to spend on the song, with bids ranging from $0 to $2…

http://bit.ly/1kCYS1w
Posted on Thursday, 10 April |
"In fiction one single fact that is true gives legitimacy to the entire work."
Posted on Wednesday, 9 April |
Están circulando por ahí un par de imágenes y videos que buscan hacer algo visualmente claro: nuestro planeta, nuestro sol y nuestro sistema solar completo están viajando  por el espacio a velocidades increíbles (como 70,000 km/h), lo que hace las orbitas de cada planeta mucho mas dinámica e interesante.
Aunque muchos ya lo sabíamos, no deja de ser increíble el poder ver estos diagramas animados que ilustran el fenómeno. Ahora sí podemos decir que la vida es un viaje…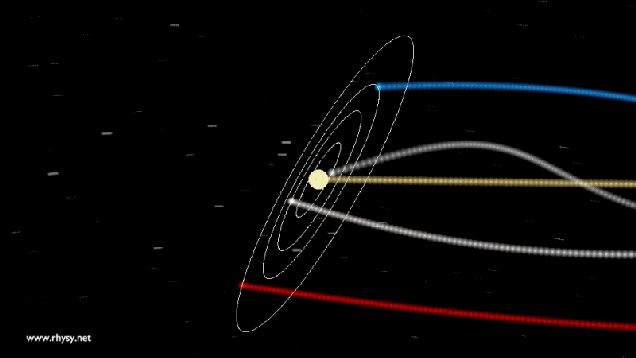 Our planet is rotating around its axis at a rate of 1,000 miles per hour, and our moon is swinging around us. We race around the sun at 67,000 miles per hour, along with all the other planets, dwarf planets, asteroids, comets, and centaurs trailing along at their own pace as they make the journey around the sun.

Our sun, light of our lives and the gravitational glue binding our solar system together, is itself no lazy creature, spinning at 4,400 miles per hour. The star and its twisting disc of planets make the long marathon along the outskirts of the galaxy at 43,000 miles per hour, bobbing through the galactic plane. Even our Milky Way is in a steady dash, moving at 1.3 million miles per hour with respect to the Cosmic Microwave Background Radiation.

I offer an alternative that reflects more accurate views of orbital mechanics as we know it, isn't soaked in a downright bizarre pseudoscience framework, and is still mesmerizingly pretty…

http://bit.ly/1hUMxDh